I had the opportunity to visit England in 1990, we stayed in the countryside but I did get three days in London. The Tate Museum was on the top of my list. They have thousands of artworks in the permanent collection, this is a sampling.  Melinda
Tate Britain (known from 1897 to 1932 as the National Gallery of British Art and from 1932 to 2000 as the Tate Gallery) is an art museum on Millbank in the City of Westminster in London. It is part of the Tate network of galleries in England, with Tate Modern, Tate Liverpool and Tate St Ives. It is the oldest gallery in the network, having opened in 1897. It houses a substantial collection of the art of the United Kingdom since Tudor times, and in particular has large holdings of the works of J. M. W. Turner, who bequeathed all his own collection to the nation. It is one of the largest museums in the country.
Tate Britain and Tate Modern are now connected by a high speed boat along the River Thames, which runs from Millbank Millennium Pier immediately outside Tate Britain. The boat is decorated with spots, based on paintings of similar appearance by Damien Hirst. The lighting artwork incorporated in the pier's structure is by Angela Bulloch.[15]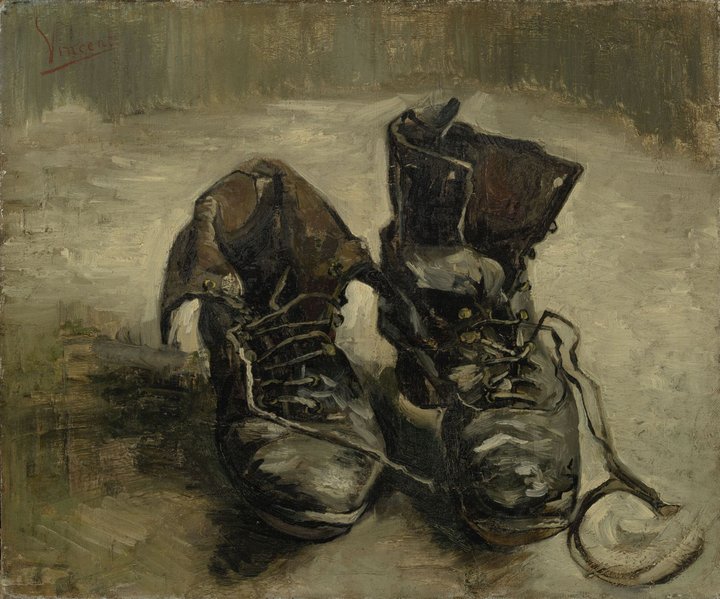 Van Gogh came to Britain at the age of 20. He worked as an art dealer and was transferred by his employer to London for business. He spent three years in the city, walking its streets, crossing its bridges and gaining inspiration from the surroundings. His time in Britain was a life-changing experience, influencing the art he would begin making four years later. Here are seven things to know about Van Gogh's time in Britain.
1) HE WAS A YOUNG IMMIGRANT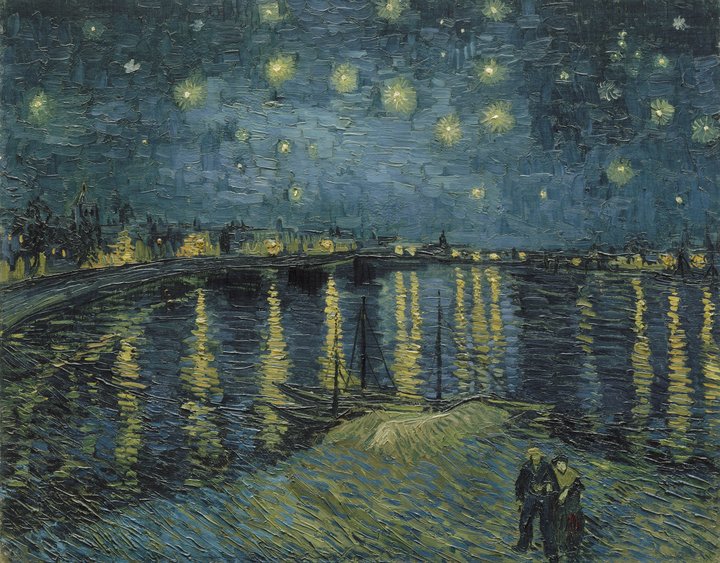 Before the foundation of the European Union enabled free movement across its borders, Van Gogh travelled to Britain as an immigrant. The chance to live and work in a new country was an opportunity Van Gogh was grateful for. To the people of Victorian London, he was a foreigner. He was happy in London. Britain offered him prosperity. At the age of 20, he was earning more than his father.
He worked in Covent Garden as a dealer in art photography and prints. He lived in South London, first in Brixton and then in Oval. London was twenty times the size of any town that Van Gogh had known. He enjoyed walking its streets, taking his usual route over Westminster Bridge for a scenic commute to work. Later he would write to his brother, fondly remembering these walks over Westminster Bridge. Van Gogh thought Gustave Doré's The Houses of Parliament by Night captured the magic of London. In Starry Night Over the Rhone 1888 he would seek to replicate the spectacle of a city river at night.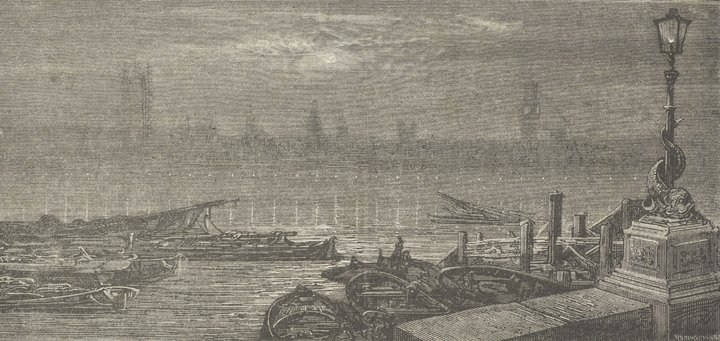 2) HE WAS INSPIRED BY BRITISH REFORM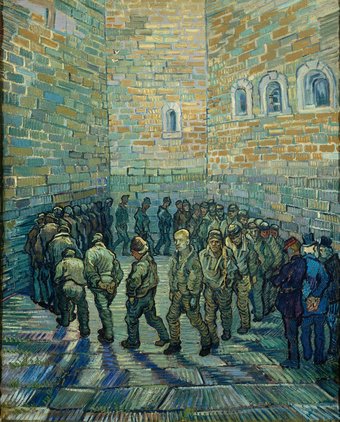 At the time of Van Gogh's arrival in London in 1873, social reform was beginning to find power in parliament. The ideals of the time were changing, with publications like J S Mill's On Liberty circulating heavily in the public domain. For a young man working in London to survive, Van Gogh was invested in how Britain was changing and how that would impact him.
Having grown up in a middle-class home, Van Gogh was shocked by the poverty on the streets of London. He began questioning capitalism and vowed to live a meaningful life. When he did decide to become an artist, he wished only to create art 'for the people'. Prisoners Exercising was based on a print of Newgate Prison in London. It shows the misery and entrapment of the prisoners, while their superiors, a prison guard and two upper-class men in top hats watch on. This image stayed with Van Gogh for many years, finally painting Prisoners Exercising in 1890. It is clear Van Gogh felt a kinship with the behaviour and social position of these prisoners. Van Gogh never profited from his paintings during his lifetime, living in poverty for the majority of his life.
3) HE FELL IN LOVE WITH VICTORIAN CULTURE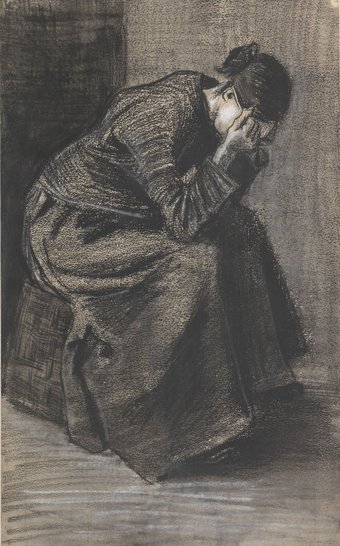 London presented Van Gogh with a stark new reality to his rural hometown. He was impressed by the city's modernism, advanced technology and transport. London was a city lit by streetlights, a city powered by electricity and a city that relied on industrial power. It was impressive in all its accomplishments.
The traditions of Victorian England also inspired Van Gogh. When he first came to London, he purchased a top hat, a symbol of the successful Victorian middle-class. He enjoyed Christmas. Modern ideas of Christmas, full of presents, Christmas trees and Thanksgiving style dinners, all came into trend during the Victorian period. There was a novelty to it that appealed to Van Gogh. Similarly, English pastimes such as gardening and rowing on the Thames were a form of enjoyment for him. Van Gogh submerged himself in the culture of his new home.
4) HE ENJOYED ENGLISH LITERATURE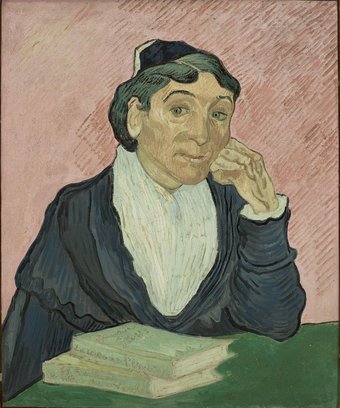 The idea of this Victorian Christmas was fuelled by Van Gogh's love for Charles Dickens. He enjoyed re-reading Dickens's Christmas Stories every year. They can even be seen in the foreground of L'Arlésienne.
English Literature was a great love of his. He continued to read Dickens until his death. In his letters, Van Gogh mentions over one hundred books by British authors. Writers like George Eliot, with her social realism novel Middlemarch, influenced Van Gogh's understanding of social reform. The idea to create 'art for the people' was inspired by Eliot's socialist prose.
His favourite though was John Bunyan's The Pilgrim's Progress. It is an allegory of a man who must travel on a path filled with many obstacles that test his faith in the Christian God. Van Gogh, as an immigrant, returned to the idea of life on the road, a figure that haunted his drawings and paintings for the entirety of his career.
5) BRITAIN SET VAN GOGH ON A RELIGIOUS CAREER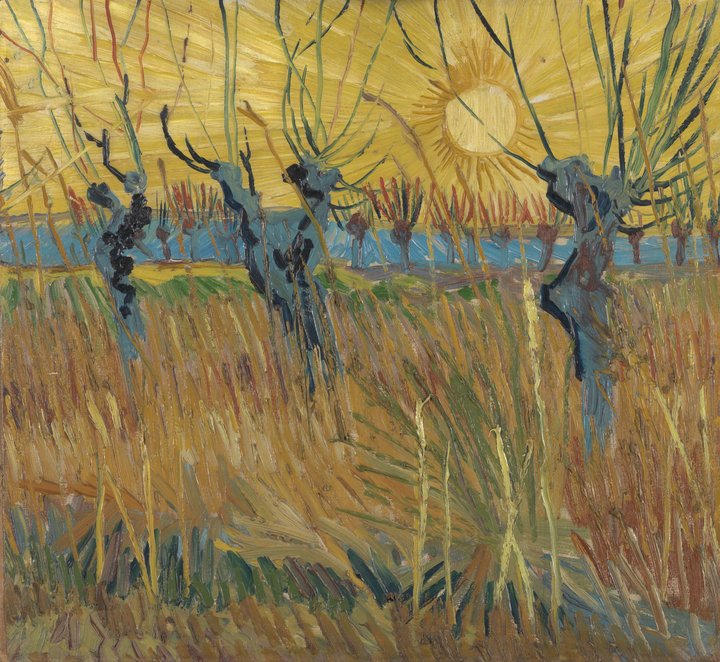 The Pilgrim's Progress centred heavily on a Christian message about devotion to God. During his time in London, Van Gogh became more and more religious. It was at this time that he decided he wished to pursue a career as a priest.
A year after he left London, he was volunteering as a pastor in Borinage, a mining village in Belgium. Britain's rising socialism had influenced Van Gogh so much that he donated much of what he and the Church had to the villagers to alleviate their poverty. The Church authorities were not pleased and fired Van Gogh for harming their governance in the region.
6) BRITAIN ENCOURAGED HIS LOVE FOR ART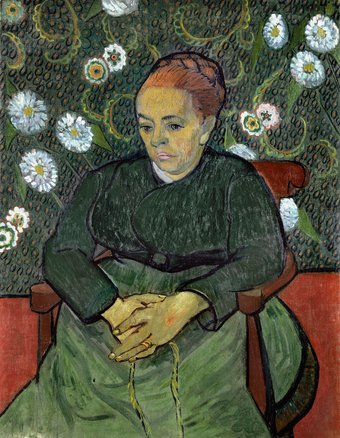 It was after leaving the Church that Van Gogh joined the Académie Royale des Beaux-Arts in Brussels. Van Gogh had become interested in recording the surroundings he saw while he walked and his brother, Theo, encouraged him to train as an artist.
Art had been present throughout Van Gogh's life and career as an art dealer. In London, he enjoyed visits to the Royal Academy to view favourites like John Constable and the Pre-Raphaelitepainters. Later, Van Gogh would use English titles for some of his works, hoping that they would sell well in Britain.
In many of his letters to his brother Theo, Van Gogh speaks about his love for art and London's galleries. At this time, he lacked confidence in his own talent. From the way he spoke about the artists whose work was being exhibited in London, it is clear they inspired him immensely.
7) HE LEFT A LEGACY
Many British artists have been influenced by Van Gogh and ensured he left a legacy in Britain. Harold Gilmanwas one of these champions. Gilman applied van Gogh's use of bold colours and expressive brushwork to English motifs. A reproduction of Van Gogh's portrait would hang in his studio that Gilman would salute. He would hang his paintings next to those of Van Gogh's. The influence can be seen if you compare Gilman's In Gloucestershire with Van Gogh's Horse Chestnut Tree in Blossom.
Even later, Francis Bacon and his peers would position Van Gogh as a painter of hope after the destruction of the Second World War. Bacon would go on to paint a study of Van Gogh, based on one of Van Gogh's self-portraits. Van Gogh inspired a movement of British expressionist realism. Bacon's artistic growth from earthy pictures to a more vivid, mature style, echo the works of Van Gogh.
Over a century after Van Gogh's time in Britain, we are still aware of him and his work. He has become known in the public conscience as one of the most well-known artists to ever have lived. In our schools, he is one of the first painters taught to children. Van Gogh may have only have spent a matter of years in Britain, but he has stayed with us in the many decades after.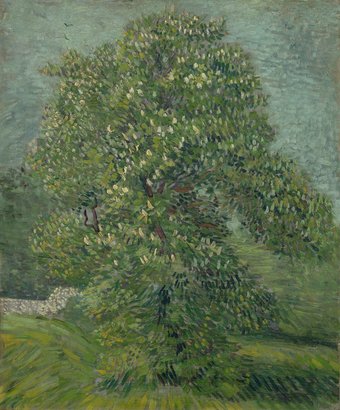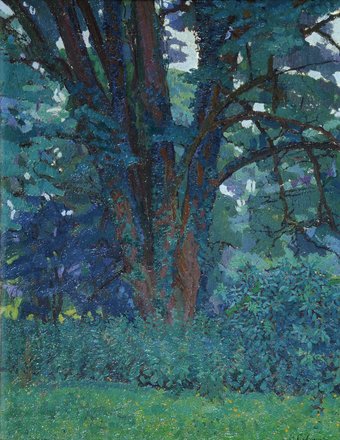 The Pre-Raphaelites were a secret society of young artists (and one writer), founded in London in 1848. They were opposed to the Royal Academy's promotion of the ideal as exemplified in the work of Raphael.
Think you know the Pre-Raphaelites?
We take a look at some little-known facts and bust some myths about this group of Victorian painters
1. THEY STARTED OFF AS A SECRET SOCIETY
When John Everett Millais, William Holman Hunt, Dante Gabriel Rossetti and the other founders of the movement first began marking their paintings with the initials PRB in 1848, they refused to explain the mark. However by 1850 the meaning – Pre-Raphaelite Brotherhood – was leaked (possibly by Rossetti). The society members and affiliates began to explain what they meant by it, just in time for the actual brotherhood to eventually dissolve in the early 1850s.
On 1 January, 1850, they published The Germ: Thoughts towards Nature in Poetry, Literature and Art a shortlived periodical that proclaimed:
The endeavour held in view throughout the writings on
Art will be to encourage and enforce an entire adherence to
the simplicity of nature; and also to direct attention, as an
auxiliary medium, to the comparatively few works which Art
has yet produced in this spirit.
2. THE PRB WERE RADICAL IN THEIR TIME, AND NOT EVERYONE LIKED IT
In fact most of the establishment couldn't bear it. These young artists aimed to overturn everything artists were being taught at the Royal Academy School. These teachings held up the Renaissance painter Raphael as the pinnacle of artistic achievement, but that the PRB saw as formulaic and backward looking. By going back 'Pre-Raphael' to medieval and early Renaissance painters, they planned to recapture what they saw as simplicity and truth in art. Inspired by the flat compositions and minute detail of these early paintings, particularly frescoes, they rejected any hierarchy of symbols in their paintings (giving equal weight to the figures and the environment surrounding them). They painted directly on to white grounds making their colours startlingly bright, and gave their forms sharp outlines with little shadow.
In 1850, Charles Dickens described Millais's depiction of the Virgin Mary in Christ in the House of His Parents as a degenerate type, one who was 'horrible in her ugliness'.
3. PEOPLE REALLY LIKE THEM NOW, THOUGH
John Everett Millais' Ophelia 1851–2 and Dante Gabriel Rossetti's The Beloved 1865–6 have been on an international tour over the last year, to the US, Russia, Japan and Italy where they were collectively seen by over 1.1 million people. Opheliaconsistently tops the bill as the most looked at art work on the Tate website and the the most popular postcard in the shop.
4. JOHN EVERETT MILLAIS WAS A CHILD PRODIGY
Growing up in Jersey, Millais was apparently expelled from his nursery aged four. However, his growing talent for drawing was noticed, not only by his mother and drawing master in St Helier, but also by prominent visitors to the island who suggested the young Millais be taken to the Royal Academy Schools in London. The family moved to London when Millias was nine, and by 11 he was admitted to the Royal Academy, as their youngest ever student.
5. THEY WERE THE FIRST 'HIGH DEFINITION' PAINTERS
When TV and film began to be filmed in digital HD, it caused a major headache for set dressers and props makers. Film's forgiving grain and the relatively narrow depth of field, could be relied on to cast a warm glow over a painted backdrop or a hastily-amended costume, and not draw too much attention away from the action. Digital HD, however, suddenly brought absolutely everything in shot into horrifying focus. Truth was in all the tiny details. And so it was for the Pre-Raphaelites. They were accused of using the new technology of photography to paint from, though in fact they did not, always painting form the true natural source, often outdoors. Their paintings do, however, have what Tate curator Alison Smith calls 'a discordant quality of focus – rather like a high definition film, where the whole depth of field is sharp'. This does make it hard for the eye to read quickly: do you focus on Ophelia's face, her hands, her dress, the flowers? But it also means that these paintings don't give up their secrets too easily – they benefit from a long look.
6. LIZZIE SIDDAL DIDN'T DIE FROM POSING IN THE BATH FOR OPHELIA
Though it probably didn't do her any favours. Millais had her in the bath from December 1851 until the end of March 1852, and they normally kept the water warm by placing oil lamps placed below. On one occasion, the lamps went out. Millais didn't notice, and Siddal didn't mention it. She caught a cold which cost her father £50 (over £3000 today) in doctor's bills – he sent the bills to Millais.
Siddal was in truth, Rossetti's muse, though she sat for others of the PRB. Their relationship continued over a decade, from the early 1850s to their unhappy marriage in 1860, and to her eventual death (possibly suicide) from an overdose of laudanum, an opium derivative. It was this addiction that killed her, whether by accident or design. Rossetti's final homage to her, Beata Beatrix, shows a dove bringing Beatrix (Lizzie) a poppy, of course the source of the drug caused her death.
7. DANTE GABRIEL ROSSETTI KEPT A MINI ZOO AT CHELSEA
In 1862 Rossetti moved to 16 Cheyne Walk in Chelsea, a house with a large garden that he turned into a miniature zoo. Rossetti had kangaroos and wallabies, armadillos, a racoon, a Canadian woodchuck and a Japanese salamander, as well as larger animals like a zebu. He even discussed the purchase of an African elephant with the wild animal supplier, Charles Jamrach. His favourite animal however, was a wombat named Top. Rossetti loved visiting the wombats at London Zoo, and had purchased two as pets from Jamrach. Unfortunately Top did not care of the change of scenery, lasting only a couple of months. Rossetti had him stuffed and displayed him in the entrance to the house.